Fir Bolg War Horn released for Erin Celtic Myth
A new miniature added to the expanding Erin Range for this month. The eighty eighth miniature is a musician for the Fir Bolg as we add in more poses for this growing faction. Soon the people of the bag will be able to fully take the field against the sea risen Fomorians, the glamor ridden Sidhe and the mortal Milesians. Go HERE for the range.
There are now a dozen Fir Bolg miniatures with eleven being warriors and one named hero. We aim to expand the people of the bag to a full faction with a value warband such as that we have for the other races by the spring.
A single Erin metal miniature supplied unpainted, unassembled (if required) and without a base. See CM26, CM20, CM21 and CM27 codes for other Fir Bolg.
We currently have three Warband saver packs which give you a group of miniatures including a hero, champion and warriors for your choice of faction with one miniature free (10% off single prices).
By customer request a paid digital download the 2005 game book for Erin Celtic Mythology. This book has been out of print for several years and will not return in print as we are working towards a third edition. This edition is far, far off and thus this title is offered at a much greater reduction as a download to tide you by until then. See it in the Erin Range or among the array of Digital Download Books on the website.
—
Savage Shields released in the HOT 15mm Fantasy Range
During the initial releases of the new Savage Lizardman miniatures there were requests for separate shields from HOT127 Savage Lizardman Spears and we are delighted to now offers these as asked for. Go HERE for the range and read on for more information.
HOT127S Savage Shields Sprue: This accessories code gives your four different 15mm scale shields with a savage theme suitable for adding to any miniature or scenic build. Each shield is made of wood with reptilian skin stretched over two of them and bone frame.
As with all HOT codes choose from a pack (16 shields) or a sampler (one sprue of 4 shields) as pictured. Go HERE.
There are new packs in development to expand the Savage Lizardman Army which will appear across 2022 including archers, cavalry, flyers, command and more. If you would like to check out the infantry packs of Spears, Polearms, Warriors, Blades as well as Lizard Ogres the Lizard Behemoth and the Savage Artillery Catapult too you are most welcome.
—
Our Painted Stock is Updated!
Alternative Armies produces many thousands of painted miniatures from our ranges every year. This stock changes on a weekly basis on our website. We offer an excellent price for the miniature, its painting, basing and finishing all in one. What you see is what you will get right out of the box. You can see our Painted Fantasy , Painted Valon (Flintloque and Slaughterloo), Painted Science Fiction as well as Painted 15mm Scale (HOTT1003 Orc Warhorde shown above) and our Mythical and Historical Miniatures in several scales. Have a browse and thank you.
—

Pen Paper and Dice Blog paints up our Elves
A link to a lovely blog which might interest 15mm fantasy players. This chap Giorgis really digs our HOT 15mm Elf Heroes and Champions. Go HERE for his blog. Thanks!
—
Free in Every Order This Month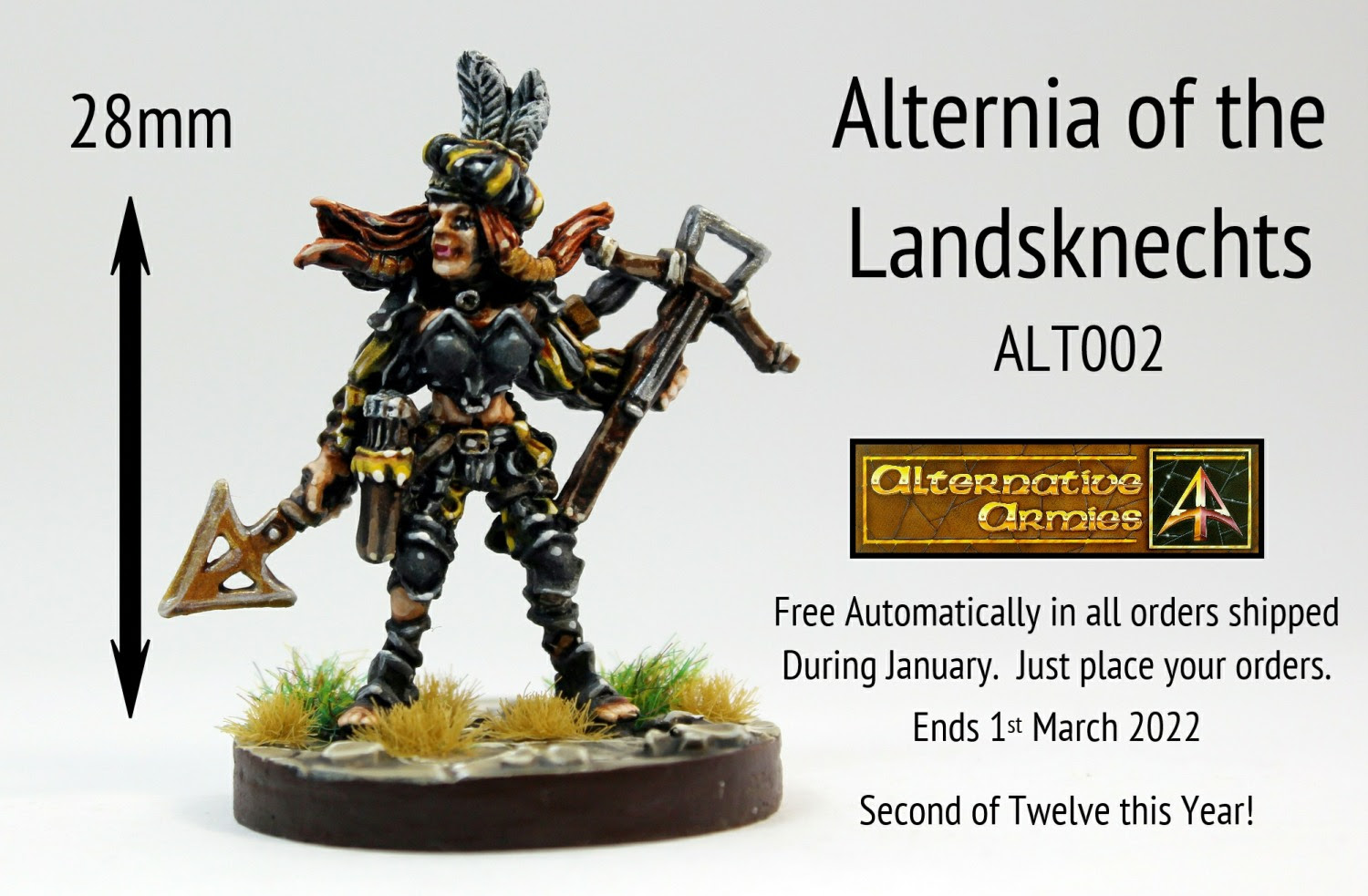 February is here! The second of a dozen (one each month all year) Alternia miniatures is free in every package shipped out from Scotland to all customers this month. Place your order or orders and we will automatically include her. The order must be shipped (no digital orders only sorry) and can be of any size and you will get ALT002 Alternia of the Landsknechts. As many times as you like and you can purchase Alternia's too and you will still get the free one. Go HERE. Ends 1st March 2022.